Lessons Learned About Online Relationships Through Manti Te'o
Lessons Learned About Online Relationships Through Manti Te'o
A few weeks ago, the big story with which the media had a field day was that of a Notre Dame football player falling for a woman who never actually existed. By now you've probably heard at least snippets of the whole ordeal: star linebacker Manti Te'o was in a relationship with one Lennay Kekua, a supposed 22-year-old Stanford University student, until she died of leukemia. Despite his heartbreak, Te'o continued to play valiantly and led his team to victory at a championship game in September. The story sounded very inspirational, until the word got out that the purported love of Te'o's life was actually nothing more than a fake Internet persona. Stanford had no record of anyone by "Kekua's" name attending the university, and the woman in the alleged photos of her was identified as Diane O'Meara, who is very much alive.
Though possible that Te'o was involved in this elaborate scheme, popular opinion seems to believe that he was just plain duped. While Te'o claimed that he did not have extensive knowledge about the details of his girlfriend's life, he certainly had plenty of information about their communication. He explained that the pair communicated primarily online and through texting, but mentioned that he also frequently spoke on the phone with "Kekua" and her family members. However, with the myriad of social networking sites and other forms of digital communication to which modern Western society has access, one would think that a man involved in a long-distance relationship would video-chat with his "girlfriend" from time to time, if not simply to make sure that her face was actually her face. And maybe he would want to meet her in person sometime—that might be a good idea.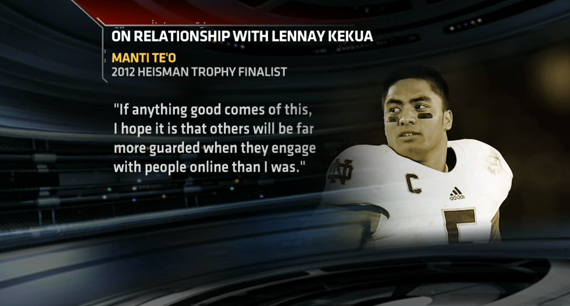 Understandably, Te'o seems to be extremely embarrassed about all this drama. As with most issues, his horror story, rather than his football-playing prowess, is the subject on which the media jumped. News outlets aren't going to bother reporting on the heartwarming yet rather boring story of two people who share a mutual love for Doctor Who, become friends through Tumblr, discover that they live not too far away from each other, and then meet up for lunch with absolutely no involvement of a sketchy old man or disguised kidnapper. Online dating is quickly becoming as common an outlet to meet someone as in the nearby coffee shop, so the news is only going to talk about the anomalies associated with this new medium of relationship-cultivation—for example, the story of a woman who thought she was meeting up with Mr. Tall, Dark, and Handsomely Rich, yet winded up in a ditch on the side of the highway. The media will continue to broadcast scandals like Te'o's that involve somebody lying about their true identity, because those are the sorts of stories that rile people up.
Worried parents understandably view talking to strangers on the internet as incredibly dangerous and taboo. But while some corners of the internet can be dark, scary, and full of creeps, building online relationships doesn't have to be dangerous if you know what you're doing. As someone who has flown across the country to hang out with seven people I had never before met in person and lived to tell the tale, I would advise you to first make absolutely certain that the people with whom you are communicating online are real—this suggestion shouldn't come as much of a surprise. Obviously, it doesn't take a genius to create a fake Facebook account filled with photos of a random person, so you probably shouldn't give your address or phone number to the virtual person whose pictures don't look familiar—but they did look mildly attractive, so you acceted their friend request—and who only has twelve friends, none of whose names you recognize. Also, I would caution against meeting up with someone who wants you to pick up an item that they're selling on Craigslist in a dark alley at midnight—that super-cheap futon is not worth you possibly being robbed and/or brutally murdered. Basically what I'm trying to say is, be smart—okay, guys? As long as you use good old-fashioned common sense when navigating the waters of online relationships, I promise that the internet can be a very nice place—one where no one is seducing you into thinking that they're dying of leukemia.